Accountability at the Center of RICO Equipment's Success
RICO Equipment is a specialized engineering company that designs and manufactures specialized lift trucks and material handling equipment. Heavy in the chemical/coating, automotive, steel/stamping industries, RICO's skilled team is devoted to serving the specialized handling industry globally.
RICO at a Glance
Founded: 1984
Number Of Employees In Medina County: 100 Employees, All In The City Of Medina.
Reason For Coming To Medina County:
The Workforce Was Strong Here And Our Founder Was Located Nearby In Strongsville At The Time.
Geographic Distribution: Primarily To The U.S. And Then Dealers Will Export Out.
After more than 30 years in business, RICO has never borrowed a dime by making only calculated risks and always adhering to its mission statement. The company feels so strongly about its mission that it holds every employee accountable to it. Together, everyone succeeds.
Steve Shuck, president of RICO Equipment, sat down with Made in Medina County to discuss some of the company's biggest initiatives.
1) What do you believe is the key to RICO's long-term success?
Shuck: Accountability of our mission statement is what makes us successful. We drafted our new mission statement about 4-5 years ago and we stick to it. People have exited the company who did not value or believe in what it stands for and others have risen in the ranks because of their commitment to it. Having the mission statement means that everyone is accountable: from the leadership, down. We encourage employees to hold us accountable too and they will call us out on it. We literally throw the mission statement down on the table in meetings.
With everything we do, we ask ourselves these questions:
Are we doing everything toward the profitability of the company?

Are we focused on the growth of the employees?

Is what we are doing aligned with the goals in the mission statement?
That is our recipe for accomplishment. We put the building blocks of success into our mission statement. If anyone goes off path, it helps guide us back in the right direction.
Ultimately, our success is about our people, and about how we position ourselves for risk. We've had opportunities come up in the past two years where we had to extend ourselves to capture a portion of the market. We worked to make that happen. You can't just sit on a pile of cash and think it's going to grow.
2) Speaking of growth, RICO has a strong financial strength, never needing to borrow money. How has the company achieved this feat?
Shuck: We grow within our means and focus on protecting the war chest. We must take risks, but it's calculated risk. We will never put the company in jeopardy. However, if you never take a risk, you are putting your company at jeopardy by staying stagnant.
Because of this methodology, we've never had to borrow anything. We've positioned ourselves in the right areas of the market with an understanding that we don't stay there for too long without knowing what our return is. We go into everything with a goal. Companies may go into a situation and know it is a bust, but that is not something we will do. We may take three or four steps and if there is no return after that, we cut our losses and move on.
3) What programs and initiatives does RICO take to best serve its customers?
Shuck: Our first focus is to offer layers to our customers because they have different budgets and buying power. Before 2013, we were just a brand-new equipment company, but then we started to introduce different layers to best serve our clientele due to market response. We saw there was a need.
We noticed that if people didn't have the budget or capital to invest in new equipment, then we lost the sale. We started buying equipment back so we had an inventory of used equipment and then had options available.
Fast forward to today, we offer new, rental and pre-owned equipment that we re-certify. We want to capture 100% of customers' business. We do the same thing with our aftermarket sales. We want to be at every price point. We are the only specialized lift truck company in the U.S. that offers all the layers we do, in all our markets.
4) How has Made in Medina County helped you succeed in your business?
Shuck: Participating in Made in Medina County events gives us great exposure that we may not have had otherwise, which is exciting for me. We joke that we are a secret back here (at its 691 W. Liberty St. in Medina location) because we don't sell directly to the consumer. People don't know what we do.
With the initiatives the Medina County Economic Development Corporation and Made in Medina County offer, it allows us to get the word out to the masses what our company does. We had the opportunity to speak with students at the Made in Medina County Expo last year. We had them come out to the facility. It's helped us build a reputation around town.
5) What types of workforce development do you participate in?
Shuck: We do a lot of training for our employees, such as professional sales, management and leadership training. Internally, we conduct classroom and hands-on training and focus on open communication between departments. We want to break down the interdepartmental barriers between manufacturing and engineering and have them provide feedback to each other.
To do this, we create open and non-threatening environments for people to collaborate in. We will take meetings off-site. If employees come into my office to have a meeting, I am sitting behind a desk. I look like a president. However, if we have an off-site lunch meeting, we are all just sitting at a table together. I can be in jeans and a t-shirt and look like a father or any of the other hats I wear that employees may be more comfortable engaging with. People may be uncomfortable giving feedback to superiors, but you must find a way to break that down and have that open line of communication.
6) Is RICO developing any new type of handling equipment or going through any other business expansion you'd like to touch on?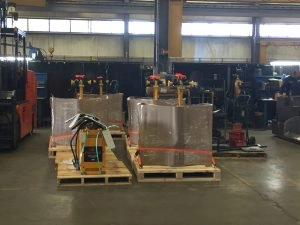 RICO continues our lead as the largest US manufacturer of Explosion Proof (EX) lift trucks in the United States. Having entered the Explosion Proof market in 1991, RICO is uniquely poised to maintain equipment and ensuring the safety of those employees working in explosive and challenging environments. It is a very important market segment for our company. Most EX-truck customers are already using standard, non EX-rated, RICO products.
Earlier in the 2016 year RICO unveiled the heaviest capacity EX-rated sit down counterbalance truck in the market, to date. We've taken our already successful lineup and further improved ergonomics, visibility, efficiency and accessibility, while increasing load capabilities. As the premier leader in our industry, we pride ourselves on staying two steps ahead of competition.
Currently we are aggressively working on evolving all our EX models with the newest and most advanced technology. We choose to update our all our products based on what is continuously necessary for our customers to maximize their productivity and success. RICO is always seeking new ways to partner with dealers to ensure the end user has exactly what they need for any situation. We sell equipment, we manufacturer equipment, but just as important is the fact that we are a true engineering and design company to make all that possible.