Akro-Mils Supplies the Storage to Keep Businesses Organized
Keeping Things Organized with Akro-Mils
Akro-Mils opened its doors in Medina County in 1974 and hasn't looked back. As part of the Myers Industries families of companies, Akro-Mils draws on the strength of a large company with the feel of one with local control. With 160 employees and counting, Akro-Mils is a leading employer in Wadsworth.
Made in Medina County sat down with Holly Phillips, Technical Content Leader, to learn more about this terrific Wadsworth business.
Q: Thank you for having us in, Holly! Could you please share a little of the history of Akro-Mils?
A: Happy to share! Akro-Mils was founded in Akron on October 4, 1946 by three Schneiderman brothers – Myer, Isidore, and Louis and the name was created by combining Akron with the initials of the brothers' names. Originally supplying the undervehicle service industry, the brothers noticed the need for storage in their customers' businesses and began manufacturing cabinets and drawers.
The products started in steel but expanded to plastic bins in 1972 and then shortly thereafter, we built a manufacturing facility in Wadsworth.
Q: What made Wadsworth attractive?
A: Our building has rail access which is extremely important to our work. We receive our plastic raw materials that way and store it in silos behind the plant. Also, the tax rates were very attractive. We were able to build what we needed and find the talent here, which makes all the difference.
Q: What kinds of products do you make today?
A: Organization is vital for any business that wants to focus on quality and efficiency and our products help in that space. Our AkroBin® is our number one seller and has been our flagship product since its introduction in 1972. It provides customers with the ability to maintain accurate inventories that are easy to access, maximizes storage space, and speeds up processes to boost efficiency. It comes in a variety of sizes and colors to fit any system.
Q: We actually have them on our desks to hold business cards! How has your product mix changed over the years?
A: Actually, over the last year we have done a lot of analysis on our product lines. What we discovered is 80% of customers ordered just 20% of our products. We've been able to really zero in on what they want and focus more on increasing the buys with each customer. We are now doing that with all of our processes as well. By analyzing the data, we can identify the 20% of the work that has the biggest impact and help streamline the rest.
Q: That sounds like a pretty major undertaking. What caused that change?
A: We had actually started it as part of our strategic plan and then brought in our new president, Chad Collins, who has moved it even further. He has a serious focus on safety which has helped everyone be more aware of what is important every day. We have improved safety and increased morale.
Q: We can see how the AkroBin® could make an impact on a business. What other products have you seen called out?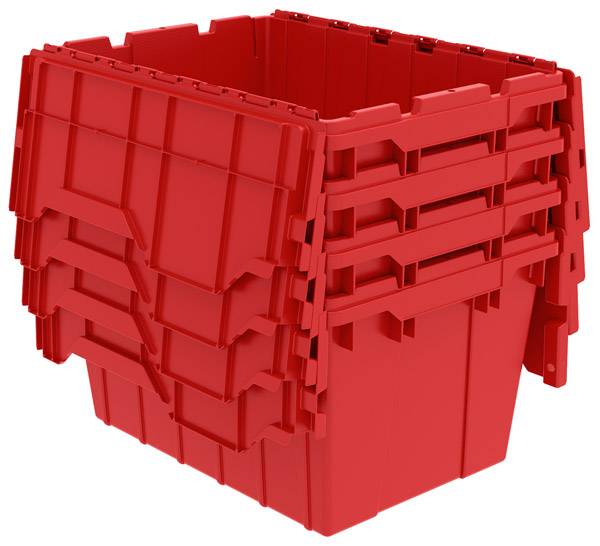 A: One company, the Campbell Sweets Factory, reported that the Akro-Mils KeepBox™ has completely changed their operation. Manufacturing gourmet popcorn, cupcakes, and other sweets since 1975, they were using tubs with separate lids along with cardboard boxes which were causing more problems than they realized. After they found the KeepBox, they have been able to increase their efficiencies and finished product storage, and have even built production processes around the KeepBox. It is very gratifying!
Q: That would be! How do people find your products?
A: Everything we sell is through distributors. You can visit our website which has a list of our major distributors so you find the products you need. By selling through our distributors, we are able to focus on what we are good at which is manufacturing high quality products and bringing the right solutions to the market. And our distributors are trained salespeople who know the proper application of all our products. They specialize in what they are good at and we can stay focused on where we excel.
Q: Do you have an example of a great solution?
A: One of our largest customers is a distributor of a wide variety of industrial products. They needed a new organizer to fit a specific goal at their distribution centers. We were able to work with them on what they wanted, prototype it with our 3D printers, and provide them with an effective solution.
Q: 3D printing is definitely on many people's minds right now. What other forms of technology do you use in your business?
A: Yes, we use our 3D printer technology to help support rapid development and customer curiosity. We also use injection molding that can make multiple parts at the same time. In addition, we use robots to automate a variety of time-consuming operations.
Q: We saw that on tour! I love knowing that all those little drawers get put in the cabinet by a robot. That is one tedious job, otherwise. And speaking of jobs, one area we hear a lot about from manufacturers is workforce. How do you manage your workforce differently than other companies?
A: Our shifts are really unique. Most employees work 12-hours shifts – on two days, off two days for a total of 15 days per month. We find this increases our productivity and it gives our employees a lot of flexibility. We also have recently expanded our offering of 8-hour shifts, giving employees more opportunity to have the schedule that best suits their needs.
Q: That is unique! How have you used the resources in the county?
A: Our supervisors do seminars and training at the University of Akron. We are also the top user of electricity in Wadsworth. We have participated in Made in Medina County in the past as well and enjoyed that event. It was great to have so many people stop at our booth!
Q: We love the Made in Medina County Manufacturing Expo too! Where do you see your business headed next?
A: We are very excited about the future at Akro-Mils. With our evaluation of product lines and processes, we have already made improvements that are having an impact. We are a safe, clean, work environment always looking for great people!
For more information about Akro-Mils, please visit: www.akro-mils.com