F.I.T. Expands in Medina County for a Fourth Time

Made in Medina County representatives had the opportunity to sit down with Hal Wagoner, Senior Vice President and Jennifer Connelly, Human Resources and Administration Manager, of Fuserashi International Technology, Inc. (F.I.T.). Valley City, Ohio-based F.I.T. recently won a supplier award from one of their biggest customers and are in the middle of its fourth major facility expansion.
Fuserashi International Technology, Inc.
Founded Parent Company Fuserashi Co. Ltd.: 1933
Entered Medina County: 1996
Number Of Employees In Medina County: 90
Reason For Coming To Medina County:
F.I.T. Was The First International Subsidiary Of Fuserashi. While Working With Another Business In The Area, The Parent Company Decided This Was A Great Location To Supply Their Customers.
Geographic Distribution: Mostly North America
Check out what these executives had to say about building relationships in Medina County and what the company's growth plans are for the future.
Note, these answers have been edited for brevity and clarity.
MIMC

: What is the business model of F.I.T. as a part of Fuserashi Co. Ltd.?

Wagoner: F.I.T. is the first and only international subsidiary of our parent company in the Western Hemisphere. We service this side of the world, North, Central and South America. However, the majority of our business is in North America. There are 4 facilities in Japan, 1 in Thailand, and 1 in China to supply the rest of the world. Because our parent company is Japanese, we supply mainly to Japanese OEMs, such as Honda and Nissan, but are increasing content with the U.S. OEMs. And then their suppliers as well. Many of these Japanese companies have facilities scattered around Ohio, Kentucky, Indiana, Michigan and Tennessee.

Our business mentality is to create a positive company culture for all our employees. This philosophy begins at Fuserashi. We never want to disappoint our parent company and their business because they are so well-known in Japan. We don't ever want to tarnish their reputation. If you think about it, many of our customers are actually their customers too and we never want to embarrass our parents.
MIMC

: Honda recently honored F.I.T. with a supplier award. Can you touch on what the company had to do to achieve this recognition?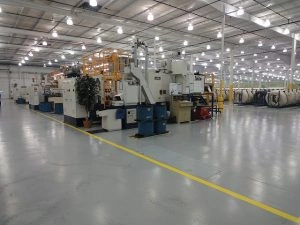 Wagoner: Honda held its annual supply conference where they award their top suppliers. We are excited to receive a quality award this year. Over the past 3 years, we shipped 100 million pieces with zero defects or problems. While the award was specifically for our performance this year, we like to reflect on the success of our team throughout the past 3 years.
Connelly: Being able to achieve this award is really a testament to all the people we have working here at F.I.T. and contributing to our business. From the shop floor to the office, everyone played a role in hitting this milestone.
Our employees seem to be happy here and look at this like it's a career, not just some job. They take what we do seriously and are passionate about what they do. The only way to achieve something like this feat is to hire driven people, with like-minded goals, who value superior attention to detail and quality.
MIMC

: Any planned growth coming up?

Wagoner: We are actually in the middle of our fourth large expansion at our facility here in Valley City. We started off here in 1997 with a 30,000 sq. ft. facility and once the 2016 expansion is complete, we will be up to almost 200,000 sq. ft.

Check out the image below to see how much the facility has expanded throughout the past 19 years.
Connelly: It has just been absolutely amazing to watch this company grow.
MIMC

: Why did F.I.T. pick Medina County for its home? How does the location affect your overall business?
Wagoner: We were actually the first company to lay roots down in the Valley City Industrial Parkway. It started because Fuserashi supplied to a company here in Medina County. Having an interest in setting up a North American facility, our executive came and worked out of our supplier's facility to look around.
After looking at a few places, Ohio Jacobson – now Jacobson MFG – asked why not just set up near them. And we agreed. Having that partnership with Ohio Jacobson at the time and then working with Medina County Economic Development really sealed the deal for this location. And we've had such great success, there was never any reason to leave.
MIMC

: What is one business opportunity that has really stood out for you and the way you do business?

Connelly: We have consciously created a company culture in which people are not just a name or number, but are truly a valued employee. That has been such a huge opportunity for us as a company, and for our employees, as it isn't something that is found in every organization.

For instance, if an employee has an idea to better a tool's life, or how to more safely run a machine, we give them the opportunity to share their ideas with us. In turn they get an opportunity to earn points for their input. These points add up for employee incentives, such as gift cards. For their ideas, employees also get to be active in the implementation of their ideas when applicable. Not only does it give them a sense of ownership over the project, but empowerment as well.

To make employee empowerment work, we really walk the walk. You don't get to 100 million parts without any defects without everyone coming together to achieve it.
Beyond our employees, our relationships with both Fuserashi and the local community have helped shape us as a company. On both a local and state level, having those interactions has been very fruitful for us.
We have done a lot of work with the Medina County Career Center to give students exposure to manufacturing in Medina County. We will have the student and their parents, come out to our facility for a tour and to discuss career options on a one-on-one basis. Parents tell us they'd love for their kids to come work for us. We are trying to foster relationships in the community to show that there are great jobs right here in Medina County. There is no need to leave the county for employment opportunities.
You heard it here, manufacturing in Medina County is thriving! Have a story to tell and want to be featured in this profile? Contact us today!