Family is at the Core of Sandridge's Company Culture

Since the early 1960s, Sandridge Food Corp. continues to expand its footprint in Medina County, growing from a small salad product company to a full-scale prepared foods operation. Sandridge now serves two major markets: retail and food service.
Sandridge Food Corporation
Founded: 1960
Entered Medina County In: 1967, Moved Into Current Facility In 1985
Number Of Employees In Medina County: 600 Employees, Including Transportation Company. An Additional 100 Employees Are At Its Raw Meat Facility In Morton, Illinois.
Geographic Distribution: All 50 States And Puerto Rico
Reason For Coming To Medina County:
Vincent Sandridge Originally Sold Salad Products Out Of His Home In Cuyahoga Falls, But When It Was Time To Have A Facility, He Fell In Love With The Medina Area.
With the third generation working at the company –both in the Sandridge family itself and various families on the plant floor—Sandridge's roots are deep within the Medina community, currently producing 550 different recipes.
Made in Medina County had the opportunity to sit down with Dane Sandridge, Vice President of Marketing and Sales Support, Jordan Sandridge, Vice President of Operations (third generation brothers growing up in the business) and Rick Sisko, President, to discuss what is key to Sandridge's continued success and advice they have for other manufacturers.
1) You can tell being a family business is in the DNA of Sandridge Food Corp. Do you think this has shaped your business?
D. Sandridge: Being a family business helped shape our core values of being a caring environment for all our employees. Dad (Mark Sandridge, CEO of Sandridge Food) grades our executive team on our values and how we contribute to the business. He says that when you have a family business, you have the privilege of running it how you want. It's not just passing it down to family members. It's about creating a close family with everyone you work with.
Sisko: From an outsider's perspective, it's great that the second and third generation employees are not just in the Sandridge family, but around the rest of the company too. Being a family owned business is definitely part of our DNA. We know we can't run the business without quality employees, so we try to do a number of extra things during the year to show our appreciation such as an annual company picnic, employee appreciation lunches and a full-blown Christmas dinner. Working here can be difficult at times so we do try to demonstrate our gratitude as much as possible.
It certainly impacts our day-to-day thinking in a number of areas, the most important of which is employee engagement. If every employee clearly understands their role in the success of the company it helps us to achieve the alignment we know we need to be great.
2) Many small businesses struggle with transitioning from one generation to the next? Do you have any advice on how Sandridge handles these transitions?
D. Sandridge: It was never just assumed we'd take over. In fact, Dad always said we'd only get the business if we were smart enough to take it over. We never felt pressured that we had to take it on; that we didn't have a choice. About seven years ago, he sat us down and told us that if we wanted the opportunity to run a company this size, we needed to further our education. So we did. I think he really wanted to set it up a little differently than when he took over. When grandpa (Vincent Sandridge) was done, he was done.
J. Sandridge: We've never been too proud to ask for help and we use a lot of people to help us. We have advisors who guide us and help us through not just succession planning, but running the business. And we have an executive team now, not just one leader.
Sisko: It's just like any business opportunity, you have to discuss it and plan for it. We talk about succession planning all the time. Transitioning generations can certainly be challenging. As a result, we devote time and attention regularly to succession planning and all of our senior executives are part of the process. We also have retained outside assistance, including a family business consultant, to help guide us. If I could give any advice on the subject it would be to confront this issue head on and communicate openly about goals and objectives for the transition. It needs to be a part of your ongoing strategic conversations.
3) Why is sustainability such a driving force behind the company and what types of initiatives do you take?
J. Sandridge: We practice sustainability because it's the right thing to do. We have a complete designated area for this, it isn't something we take lightly and just added on. Saving water has been a huge effort for us because we are currently the #1 user of water in Medina County. While it makes sense because of our operational needs, we want to be smarter with our consumption. We have a Standard Waste Assault Team "SWAT" team, which tackles a lot of our initiatives. We accept suggestions from anyone and can implement right away when necessary.
Sisko: Sustainability fits in with both our family values and company core values. We understand and embrace the influence we have on our environment and take that responsibility seriously. In fact, when we designed our last plant expansion we added a separate, dedicated recycling center to our facility which includes docks for five types of recyclable material. Our recycling program costs us money but, at the end of the day, it is simply the right thing to do.
4) Sandridge has continued to expand many times in the City of Medina (2013, 2010, 2009, 2008). Why has the company continued to stay in Medina and expand here?
J. Sandridge: The city itself has always welcomed us with open arms and is a great partner.
D. Sandridge: The people are absolutely why we stay. We do have second and third generations of staff that have stuck with us. We care deeply about our employees. They rock. You can feel Medina is a community and it wants to continue to improve as well.
Sisko: We have a long history in this area and our past means a great deal to us. The people in Medina and the surrounding communities are honest, hardworking folks that have helped the Sandridge family build the business. They truly are, and continue to be, a key to our success. In addition, we have a tremendous working relationship with both the City and County. They want to see us continue to grow and add jobs and have been great partners to our company. Medina is a great place to do business.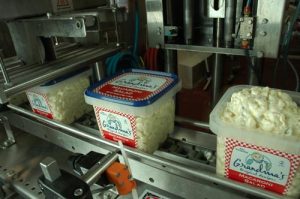 We actually did purchase another facility in 2013. Our second plant is in Morton, Ill. which is just outside of Peoria. While it has a different core capability we do use it to supplement our activities in Medina. Not surprisingly, Morton is very similar to Medina and the people there have fit well with our culture.
5) Utilizing high pressure processing (HPP) systems seems to have changed the game for Sandridge. How has investing helped your business? Any advice to other business owners on when it's worth making a sizable investment?
D. Sandridge: Having zero bacteria is a huge driving force for us. We started looking into the HPP systems strictly from a food safety perspective and installed the first one in 2010, with a second one in 2013. The HPP technology destroys pathogenic bacteria non-thermally, which enhances safety and shelf life, while maintaining freshness. We didn't originally anticipate how much of a culinary technique there was. We don't need to use preservatives the same way as before because the pressurized system does that for us. Utilizing this technology and experimenting with new recipes has made us a leader in developing salads and flavors for this type of machine. Additionally, it gave us notoriety that we wouldn't have necessarily gotten beforehand from health food stores like Whole Foods because it cuts the ingredient list way down.
Sisko: To the best of our knowledge we were the first deli salad company to purchase HPP technology. It was a substantial investment but one which demonstrates our ongoing commitment to food safety. As far as advice on making investments, all companies hit a point where they must take calculated risks. Sometimes it's a bit of a leap of faith, but that goes back to the planning we talked about earlier. Have those conversations with your team, figure out where you want to go and then find the way to get there.
For more information on Sandridge Food Corporation, visit its website.