SFS: A Career Oriented Company
SFS Group is a Swiss-based company located in Sharon Township. Focusing on automotive safety components, you will find their products in just about every vehicle on the road today. Made in Medina County had the opportunity to sit down with Urs Langenauer, General Manager and Vice President, and Jackie Schulte, Manager, Human Resources to find out more about the company.
Q: Could you please share with us some of the background of SFS?
A: SFS Group is headquartered in Switzerland and is a 1.7 billion dollar company world-wide. We have a number of different divisions that include fasteners, blind rivets, engineered metal and plastic components and more. We started manufacturing in Medina County in Valley City in 1993 and then in 2000, moved to the location where we are now. In 2013 we added onto the facility and shortly thereafter, we focused solely on production of engineered automotive components.
Our products are all found in the safety equipment of vehicles made in either the US, Canada, or Mexico. Safety is such an important part of vehicles today, and we've been able to contribute in a number of ways.
Q: What are the goals for the division?
A: Our primary goal is to provide 100% on time delivery and exceed customer expectations. That may sound fairly obvious, but when you have 5 million parts going out each week, it becomes much more complicated to ensure each and every piece is perfect. But that's our goal.
Q: So how do you meet your goal?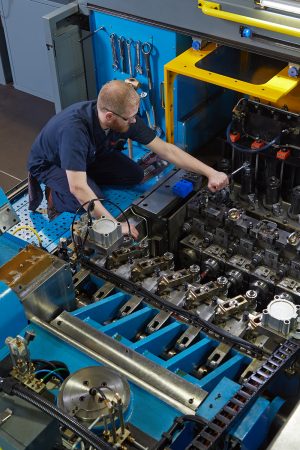 As a niche player, we specialize in advanced applications of cold forming technology. We do our engineering design in-house so we can be sure we understand exactly what is needed and how to produce the part. Our equipment is custom-made for us to meet our standards and specifications, and quality checks are performed throughout the process. Every employee knows the goal and is a part of this process.
Q: Speaking of employees, can you tell us about your workforce?
We have 190+ employees and 20-25 temporary workers. Our workforce is extremely valuable to us. It is their success stories that makes us attractive and reliable to our customers and to Medina County. Because we are a Swiss-based company, we have a very European approach to workforce training. In fact, I (Urs) started my career with SFS as an apprentice and came up through the system.
Q: Can you tell us about your apprentice model? There is a great deal of interest in apprenticeships among all manufacturers right now and SFS if often cited as a career oriented Company.
In Switzerland, we have had apprentices in most fields for a very long time. In Europe, apprenticeships are seen to have the same value as college and it is recognized that college isn't for everyone. Locally, we partner with the University of Akron and Stark State College to provide our in-class related instruction (RI). The class room learning compliments our structured on the job training (OJT) program. In most cases, apprentices are required to complete a minimum of four years of OJT and RI.
At our headquarters, an international exchange program was launched allowing apprentices to apply for short term stays abroad as a means to enhance their understanding of cultural awareness, localization and technical know-how. Because of the success of the program, about two years ago we have begun offering the opportunity locally. Apprentices from this division may apply and be considered for the exchange. In fact, several apprentices have already experience this opportunity and traveled to Switzerland.
Upon their return and as part of their experience, the apprentices assists with local recruitment. They become our ambassadors for manufacturing awareness! We want to showcase the success of our apprenticeship program, the technical training aspects and those who have successfully accepted more challenging roles.
Q: I like the idea of ambassadors for manufacturing! Why do you think that is needed?
Jackie – I have always said I want to bring the sexy back to manufacturing. Unfortunately, over the years awareness about manufacturing as being a good career, with competitive pay and benefits was lost. Today, manufacturers are joining forces to bring forward awareness about fields of study and careers associated within a manufacturing environment. Together, we are trying to expose students about manufacturing as well as the on and off ramps to a lucrative career. When I was a kid, I was invited to a manufacturing open house where my mother was working. I saw the pride she took from making something that people used to better their lives. With much thanks to that Medina County manufacturing company where my mother was employed, I received a scholarship and was then able attend college. I chose human resources as my field, but my first choice was always to go into manufacturing. Using this philosophy, it was my intent to use apprentices as ambassadors to provide as a line of sight and to share the successful pathways of manufacturing careers to students who otherwise may not be exposed to a good career.
There is no better way to exposure than having apprentices interact with students and sharing their stories.
Q: How do you approach recruiting to help improve the brand?
One approach is to reach into other sectors such as retail, restaurant and hospitality. We started by looking for people who felt as if they were in dead end jobs; who realized their learning potential and have the passion to do something different. From there, we invested in technical and personal development programs as a means to enhance personal growth, improve technical competency and gain commitment. The people investments have been a successful approach for us.
We also launched an e-Learning platform to help people with foundational skills and knowledge they need to perform their role successfully. Many of our employees have really appreciated the new or latest technological insights and often ask for more.
Another group we have pursued are people who tried college but determined it just wasn't a good fit. When they come back home, they don't have a career and typically struggle. We can pull them in with e-Learning, on-the-job and off site training to help them see their career-potential.
Typically these candidates haven't considered manufacturing as a career, so showing them what they can do helps them become their own brand-ambassadors.
Q: We know you have done some great work with students this past summer. Can you tell us about Manufacturing Awareness Week?
Absolutely! I proposed the idea of creating an awareness week to the Medina County Manufacturing Partnership (MCMP) and all members were excited about the concept. This past June, five manufacturers agreed to host students for a full week with each location focusing on soft and technical skill development. At SFS, the students were challenged with building a solar-powered car. Each kit had some sort of defect or a poor instruction sheet with it to build the kit and troubleshoot – some of the resource people, who were to assist the students, only spoke German. The groups were all separated, but realized they could work together… We really tried to give them real-world problems we encounter on a daily basis and yet have them come out with a product at the end. We made sure we covered various occupations including production machinist, supply chain, engineering, HR, sales and marketing. We wanted the students to see the breadth and depth of positions available in manufacturing.
At the end of the week all five manufacturers hosted an event on the Square in Medina. We had 22 students registered for the program and over 125 people attend the ceremonial event. It was a great first year, we learned a lot and look forward to next year's program!
Q: That sounds like a major undertaking but a lot of fun! What do you see coming up in your future other than your summer program?
We are working closely with the Medina County Career Center on the Certified Production Technician program (CPT), which is part of the manufacturing skill standards council-federally endorsed standards. The program is focused on the core technical competencies needed for front line production and manufacturing. It teaches participants the basics of manufacturing processes, quality practices, on the job safety and maintenance awareness among other topics. It is also special because participants could also earn a high school diploma at the same time as they receive the certification. "SFS has embarked on the CPT program as another pipeline for developing individual's technical skills who may not otherwise have the opportunity", says Schulte.
Q: How do you keep your people once you have them?
"Training is a big focus for us". "With the many training avenues, such as e-Learning, apprenticeship career tracks, CPT program and specialized technical training in Switzerland and abroad, we are investing and growing our own talent as much as possible". "This is part of the Division's succession planning", said Langenauer.
In addition to training, we also have a Company Engagement Team. This group of employees determines fun, team building activities and ways to give back which makes all of us feel a strong bond with our local community. The team takes somewhat of holistic approach in determining which activities are most meaningful inside and outside of our facility. We have blood drives, food drives, stuff the bus campaigns, and participate in events that support others who are in need. We have relay teams that run in the Akron marathon, Medina's Race with Grace and a group who runs together weekly. The engagement team arranges other events including hosting a golf outing to support employees with health issues and arranged a family picnic to raise money to support K9 Valor.
We also work with several high schools throughout the region and host tours, advise programs, and host teachers and students at our facility. We really try to give our employees lots of ways to get involved!
Q: You certainly do! What does the future hold for SFS?
At the end of the day, we want to be a good neighbor, be part of the community, and be a successful manufacturer. We are very optimistic about the future and see long-term growth here in Medina county. While tax incentives are of great assistance for a company come to Medina County, we invested in our people, the community and having a strong foot hold , we want to be part of Medina county's future success!
For more information on SFS, visit the company's website.