Stellar Automotive / International Lubricants: Better Products Make Better Business

Made in Medina County had the opportunity to sit down with Stellar Automotive and their sister company, International Lubricants, located in Seville, OH, to learn more about this nearly 30 year old business. Justin Archer, President, and Dennis Rowbotham, Controller, shared their story.
Q: Thank you so much for meeting with us. Could you please give us some of the background of the companies?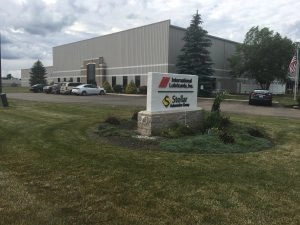 A: Stellar Automotive Group began as a sealing-ring-kit provider in Akron, Ohio in 1990. By the late 90's, Stellar needed a bigger facility and moved to Wadsworth. Parts for transmissions came in kits but often the auto shop only needed one or two pieces out of the kit, so Stellar bought the rest of the material and repackaged it. In 2007 the Archer family bought the business and moved it to Seville in 2008. Today, Stellar wholesales to distribution warehouse, who sell to transmission rebuild facilities. Stellar purchases transmission parts directly from suppliers such as Ford, ACDelco, Federal Mogul, Borg Warner, Freudenberg-NOK, Mahle Clevite, Raybestos, Bosch, ZF and many more.
International Lubricants was founded in 1984 in Seattle, WA as a direct result of the Endangered Species Act of 1973. The primary ingredient in transmission fluid at that time was sperm whale oil. With the Endangered Species Act in place, companies had to find new ways to keep transmissions running smoothly. In 1975 the world saw a spike in transmission failures because the chemical didn't exist to meet the needs. With the effort of an entrepreneurial individual and a chemist with automotive lubricant experience, they invented Liquid Wax Ester (LXE) which has been proven better than sperm whale oil.
The LXE molecule fights oxidation, heat build-up, and converter chatter and offers many performance benefits. Today, transmission failure rates are significantly lower than in the past because this synthetic product does the job more effectively, and more applications of this ingredient are being put into play every year.
With a chemical in place, they began blending & bottling transmission fluid under the name LUBEGARD® in their Seattle warehouse. In 2010, the owner was looking to retire, but didn't have family to pass the business to. As a result, he decided to sell his business. He entered talks with the Archer family, who were able to acquire the business and transmission operation successfully. Since the acquisition, the blending and bottling operations have been moved to Seville, OH, where they operate alongside Stellar Automotive operations.
Q: Can the LXE product be used for more than just transmissions?
A: We have a variety of products in that line to help deal with a variety of issues. Our number one product coming from International Lubricants is definitely our High-Performace Automatic Transmission Fluid Protectant. Aside from transmissions, we offer products for power steering systems, engines, and gear systems, all containing our patented LXE technology. We also manufacture non-automotive lubricants such as out Pool & Spa lubricant, as well as our Gun Lubricant.
Q: We often hear there are challenges with selling on Amazon. Have you found Amazon has changed your operation?
A: It really has been a major change in our market. We sell to both Amazon and eBay and they have been a driver for us making our products and information more digitally accessible. We have found It is vital to stay on top of what's happening. We read every product review and follow up on everything. The more people see there is a real company behind great products, the more they share with their family and friends!
Q: That feels like it is part of your culture – to listen and pay attention. How do you describe your culture?
A: It really is! We have very low turnover in our team because we make sure everyone knows we care about each other. We are always celebrating as a company and want to celebrate the little wins as well as the big. As a family business, we are really in a position to listen to our team's ideas and are nimble enough to act quickly.
Q: So with low turnover, is workforce still an issue for you?
A: Absolutely! We are growing at a steady and controlled rate at this point and need more associates to be part of the team. We need to find quality entry-level workers we can train. And we want to train them. It is important they know how to do things our way and feel a part of that team so we can preserve our culture.
Q: Are you experiencing other challenges?
A: Our biggest challenges currently are a steady rise in base oil prices. There have been several increases from the major oil companies over the past few years, and believe it or not, they trickle down to any and everyone who has anything to do with oils. We've been fortunate enough to increase our efficiencies so that we have not had to pass as many increases along to our customers. The other major issue we face today is outside of our hands and involves the trucking industry. There's an all-time high shortage of truck drivers which has necessitate us to address the logistical side of our business. We've involved carriers on a national level all the way down to a local level or order to maintain excellent ship times.
Q: Looking at that, how do you set goals?
A: Right now we have sales teams in California, Florida, and Detroit. They are charged with cross-selling our products. Across all divisions we are looking to integrate the companies more closely.We now have two lines for production on the lubricants side so we are well-positioned to grow. We have also set goals around private labeling products.
It is vital to preserve our culture of innovation. We are constantly exploring new markets and new ways to find solutions to problems. We are currently working on a product to lubricate guns as well as an additive to improve the lifespan of transmission fluid.
Q: With locations around the country, what makes Medina County so attractive?
Our location is ideal. We have easy access to I-71, I-76 and I-77, and can quickly get to I-75 and I-480. We work hard to partner with local companies as our vendors and have replaced almost all the vendors they used in Seattle with local partners. The quality of work from Medina County companies is second to none, and we find it to be mutually beneficial to the community and the local businesses.
We also find the cost of doing business to be very competitive in Medina County, the resources are amazing! Our heads were spinning when we reached out to learn about what was available. We love being involved in the schools, Ohio Means Jobs, Jobs for Ohio's Graduates, Medina County Manufacturing Council, Medina County Economic Development Corporation, and more. We are always looking for local businesses to partner with no matter which direction the business is flowing.
Q: What is the best advice you would give a small company?
A: Always listen. Listening to your employees, your vendors, your customers, helps you drive the business, set the right goals, and keep everyone moving in the same direction. We bring our sales team in periodically so they can be a part of what we have going on here and listen first-hand to our team. And we listen to them. It makes all the difference.
For more information on Stellar Automotive Group , visit the company's website.