What's Next Drives Three D Metals
Three D Metals was launched in the late 1960's by current CEO, Dave Dickens' father. They arrived in Valley City in 1997 and now have a 160,000 square foot facility in the Valley City industrial park. Made in Medina County sat down with Dave to learn about the business and what's ahead.
Q: Dave- thank you so much for meeting with us! Can you tell us about the history of Three D Metals?
A: Absolutely! My father launched Three D Metals in the late 1960's when he was a sales rep in the area for a brass mill in Connecticut. He was doing very well, and the mill's president thought his commission should be reduced so my Dad decided to go out on his own, creating the David D. Dickens Company. He did much of the same sales work until 1972 when he bought a slitter which is a machine that cuts the metal into different widths. We leased a small building in North Royalton and it was my Dad, my Mom doing the books and a friend of the family running the machine and doing maintenance. Three D Metals, Inc was born.
Over the next 20 years or so the business increased and more machines and larger and larger buildings were required to meet the needs of our customers. We moved a couple times in the 70's and 80's, staying in Brooklyn Heights in Cuyahoga County. In 1988 we bought a Canadian company that was the largest steel supplier to the Canadian Division of Eaton Fasteners, one of our biggest customers in the US. The Canadian company, now Three D Metals, Canada Inc., also had a copper line producing coils specifically for transformer customers, which was a nice business that complimented the steel.

People always ask about the three D's in Three D Metals – Donna, Denise, and David(s) – my mom, my sister, and my Dad and me (we share). Four D Metals just doesn't suit us, I guess.
Q: When did you get involved in the business?
A: This has always been a family business. When I was a young teen, my grandfather and I were the "inventory team" and we counted the tags in the storage areas. I was running a slitter during my summer breaks from school. After I graduated from Ohio University, my first "real job" with Three D was as Account Manager for the Eaton account and although they have been acquired and changed names several times through the years they are still a great customer today. I filled many different roles as we grew, from Quality Manager to VP of Operations, and I became President in 2004 and CEO just recently.
Q: How did you find Valley City?
A: After a couple moves within Brooklyn Heights, we had really maxed out our space at our last location. We started looking for a new space in 1995 and coincidentally (honest!) my wife Sherrie and I had just moved to Valley City with our two children Alison and David. We met some local people and they helped us meet the right people to get us into the industrial park.
Q: Dealing with metals, your building has to be somewhat unique in the construction. Is that accurate?
A: it sure is! Our floors are 12 inches of concrete under our storage areas because we store coils of steel and copper that can weigh up to 40,000#. We designed the rails for a 30-ton crane and other smaller cranes into the construction of the building to move the large coils. The design of our building was helpful when we brought the copper business from Canada to Valley City in the early 2000's. It was our ability to handle larger copper coils than our competitors that helped us get through those times and grow that market.
Q: So, have you faced some challenges along the way?
A: Hasn't everyone? When the economy went into the recession in '99, we had just really moved in to Valley City and that drove the decision to move the copper business to the US. We were able to leverage our unique capabilities and grow to support a significant share of the market in the North America relatively quickly. Rapid growth is a challenge on to itself.
We quickly found our niche in the power industry. Regardless of what's happening in the economy, the power has to keep flowing so we felt strategically it was a good move and today we have customers at every level of the power grid. The ebb and flow of the automotive industry has also created challenges through the years, particularly during the Great Recession when auto sales were nearly cut in half. Having partners like Eaton (Tinnerman, now ART) makes navigating through difficult times a little easier.
I also believe that being a family business helps us get through the challenges. I've worked side by side with my brother-in-law Chris Berry for over 30 years and we have seen a lot over that time together. Chris grew up in the company, just like I did. When he got out of the Air Force, he worked his way through the organization, learning how Three D operates. He has spent most of his career in sales and is now our President. The team at Three D is our extended family and we all want to succeed for each other, and that has pulled us through tough times and given us the chance to celebrate the achievements through the years.
Q: How do you keep the momentum going?
A: My favorite question is, "what's next?" And we go back to our current and potential customers each time we plan. What do they need, what are they doing, what trends are they seeing? For instance, in 2006 we found that some of our customers were buying more aluminum than copper. By 2009, we had diversified our product mix to include aluminum coils. Which wasn't as easy as it sounds. Our internal reject rates were much too high at the beginning so we doubled down on doing it right the first time and now we're much more competitive. We actually have set internal records for aluminum shipments for the last ten months. In 2011, we added long products – copper bars, rod and sheet – to our everyday stock items.
Q: How do you get customers to share that kind of information?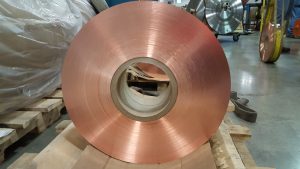 Our sales team has done a fantastic job becoming part of the solution for our customers. We are a trusted partner at nearly every one of our largest accounts. Also, some of our biggest allies are the production teams at our customers locations that prefer running our products. They know us and our work so they advocate for us with their purchasing teams and are happy to share information with us, knowing that they will benefit. We focus on doing things right the first time and our customers know they can count us to deliver a quality product.
Q: So, you brought in aluminum in 2006. What's happened since then?
A: My "what's next" question was answered in 2011 by our customers talking about alternative energy. They were looking at solar and wind, and other forms of energy generation so we decided to put our money where our mouth is and built our turbine.
Q: It is definitely a conversation piece! Does it save you money?
A: It definitely does. It only runs in winds between 5 and 35 miles an hour for safety reasons. And when it generates power we can't use, we can put that back in the grid. We've learned a lot about alternative power through the process!
Q: We bet! So, what was the answer to what's next at that point?
A: Well, we decided to focus on an acquisition. After about two years of searching, in February of 2016 we purchased Williams Metals. It was a big move for us as now we have facilities in Birmingham Alabama, Concord North Carolina, St. Louis Missouri, Pittsburgh Pennsylvania, Ravenna, and Mansfield, Ohio and an administrative office outside Philadelphia.
The process of bringing those locations into the fold, marrying up systems and cultures, has taken our time for the last three years.
Q: It sounds like a lot of work! How do you get it all done?
A: At the end of the day, buildings and equipment are just tools. The customers are key and the people who work here believe that. We work hard every day to make sure we are doing our best to meet the ever-changing demands of our customers. One of my core beliefs is happiness radiates and unhappiness permeates. Everyone at Three D Metals is part of the process and celebrates our success. We have great people at all of our locations who are focused on our customers and our mutual success.
Q: How do you do that?
A: There is no one way to do that – we do everything from ringing a bell throughout the facility when we hit our daily targets, to celebration meals every month as a team – we celebrate everything. OSU, Browns, Cavs, and Indians days lots of sports fans here in Valley City! Jeans Days seem to be becoming more popular too. If you don't take the time to recognize the good things, you lose that happiness.
I look at it as a 1,500-piece jigsaw puzzle. If you do all that work to put it together and there is one piece that is missing, you don't get to finish the puzzle and the picture is not complete. I meet monthly with production workers to hear directly from them. I travel to our other locations to hear from them too. My door almost never closes and everyone is welcome to voice an opinion, thought or idea. As managers, we need to know what new ideas people may have or perhaps seeing areas for improvement that maybe we have missed. We have many stories of people being able to move up in the company because they felt they could speak up. And every year we see retirees that still come back to celebrate with us. They really are part of the family.
Q: Sounds like a great place to work – are you hiring?
We definitely are! We are always looking for people who can accept a challenge and enjoy working side by side with other smart and dedicated teammates.
MiMC: We are definitely excited to hear what's next!
For more information on Three D Metals , visit the company's website.